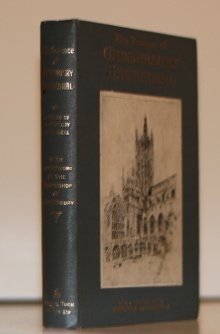 The Romance of Canterbury Cathedral
Babington, Margaret A.
Raphaël Tuck & Sons, Ltd, London, s.d. [v. 1939].
British Art - English architecture - Gothic - Canterbury Cathedral - Hardcover - Used : Good
In-12, reliure pleine toile éditeur illustrée en noir et blanc, 88 pp.
Frontispice en couleur et planches en noir et blanc en hors texte.
Assez bon état. Couverture légèrement salie, coiffe de tête frottée, rousseurs éparses.
afficher le sommaire
Foreword by His Grace The Archbishop of Canterbury - Chapter I. The Beginning of the Romance. - Screen between nave and choir - Chapter II. Invasion, Fire and Murder. - Seal showing the Saxon Cathedral - Chapter III. From Crypt to "Glorious Choir". - Bayeux Tapestry. - The crypt looking east - Chapter IV. The Men of a Three-Fold Rule. - The Canterbury psalter. - Chapter and ward of the infirmary. - V. A Dark Night and a Dark Deed - VI. A Cathedral in Flames - VII. Crusaders and Pilgrims - VIII. The Nation's Hero - IX. Kings and Archbishops - X. Princess Elizabeth of York.
Cet ouvrage consacré à la cathédrale de Canterbury a été publié pour The Friends of Canterbury Cathedral.
SUR LE MÊME THÈME
---