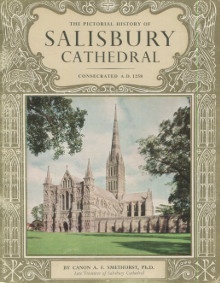 Salisbury Cathedral consecrated A. D. 1258
Smethurst, Canon A. F.
Pitkin Pictorials Ltd, "Pride of Britain", London, 1966.
British Art - Medieval Architecture - Norman Romanesque and Gothic Architecture - Early Perpendicular - History of Salisbury Cathedral - Paperback - Used
In-8, plaquette agrafée sous couverture illustrée en couleur, 24 pp.
Nombreuses illustrations en noir et en couleur.
Etat d'occasion.
afficher le sommaire
Old Sarum - New Sarum - Bishop Poore - The Hospital of St. Nicholas - The Cloisters - Clarity, Unity and Simplicity - Wren's Survey - The Library - Magna Carta - Wyatt and Scott.
Histoire richement illustrée de la cathédrale de Salisbury.
SUR LE MÊME THÈME
---