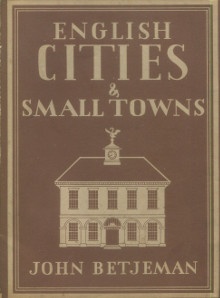 English Cities & Small Towns
Betjeman, John
Collins, London, 1943.
British Art - British History - English Cities and Small Towns - Bath - Canterbury - York - Leicester - Ely - Oxford - Brighton - John Betjeman - Hardcover - Used
In-8, cartonnage éditeur illustré noir sous jaquette illustrée, 47 pp.
Avec 31 illustrations en noir et blanc et 8 planches couleur.
Assez bon état. Légère fatigue du brochage, quelques frottements sur la jaquette.
afficher le sommaire
Under the Microscope - A Choice of Cathedral, University and Country Towns - Ports - Industrial Towns - Spas and Watering Places - How Towns Grew and how they will Grow - Appendix -
"Mr. Betjeman (1906-1984) knows England as few other writers know it. He is never put off by the superficial defect, but has the real artist's curiosity which delights in discovering behind the twentieth century shop front the old Tudor brick and in exploring the alleyway which leads off the main street.
He does not only enjoy the historic and obviously beautiful but relishes the period flavour wherever it may be found.
To those who know Mr. Betjeman's poetry, this book wil merely be a confirmation of those rare qualities of wit, observation and discrimination with which they are familiar."
SUR LE MÊME THÈME
---