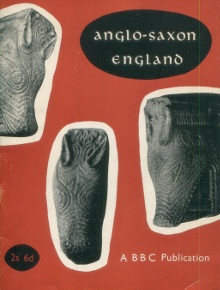 Anglo-saxon England
Peter Hunter Blair et al.
ABBC Publications, London, 1957.
British History - British Art - Anglo-saxon England - Middle-Age - Paperback - Used
In-8, plaquette agrafée sous couverture illustrée en noir et blanc, 38 pp.
Illustrations en noir et blanc et en couleur.
Bon état d'ensemble malgré quelques marques d'usage sur les plats.
afficher le sommaire
Anglo-saxon England, by Peter Hunter Blair - Introductory notes for the broadcasts, by Maurice Barley : The Alfred Legend. - Kings, Lords and Peasants. - Towns and Trade. - Language and Literature. - The Age of Dunstan. - Anglo-saxon Studies - Visible evidence of Anglo-saxon England, by David Talbot Rice : I. Churches. - II. Crosses. - III. Roods. - IV. Norse Ornament. - V. Schools of Sculpture - Some Definitions - Comparative Dates - Books to read.
"William the Conqueror's victory at Hastings in October 1066 marks sharply and decisively the end of the Anglo-Saxon state, but only if we define that term as meaning a state with an Anglo-Saxon king at its head. No-one suppose that this civilization which spanned a period of roughly 500 years - as long as the Wars of the Roses to the present day- could have been destroyed as the result of a single battle."
SUR LE MÊME THÈME
---