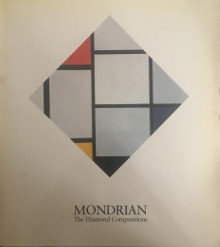 Mondrian
The Diamond Compositions
Carmean, E.A.
National Gallery of Art, Washington, 1979.
Dutch Painting - 20th Century - Piet Mondrian - Abstract Painting - Diamond Compositions - Monographs - Catalogue of Exhibition - Texts in English - Paperback - Book in Good Condition
In-8, broché sous couverture illustrée en couleurs, 110 pp.
Avec 74 illustrations en noir et blanc in texte et 8 planches couleurs en hors texte.
Catalogue en langue anglaise.
Bon état d'ensemble. Coins et une coiffe émoussés.
afficher le sommaire
Mondrian : The Diamond Compositions, E. A. Carmean, Jr. - Study Section, by E. A. Carmean and William R. Leisher : Study A. : Diamond Composition in Red, Yellow and Blue, Laboratory researc by Barbara Miller - Study B. : Composition with Blue - Catalogue : The Diamond Paintings. - The Diamond Composition Drawings. - List of Documents - Selected Chronology and Bibliography.
Ce catalogue a été publié à l'occasion de l'exposition Mondrian - The Diamond Compositions présentée par la National Gallery of Art à Washington [15 juillet - 16 septembre 1979].
Autour des compositions dans le losange.
"In making his diamond paintings Mondrian appears to have studied various possibilities first in drawings. First nine such sheets are known ; and they provide insights into the origins of the format, its crucial role in changing Mondrian's art in 1925-1926, and the creation of his great last painting."
SUR LE MÊME THÈME
---