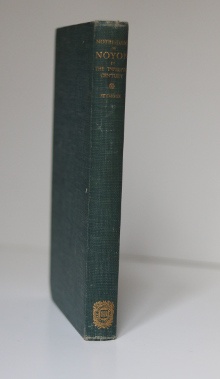 Notre-Dame of Noyon in the Twelfth Century A study in the early development of gothic architecture
Seymour, Charles
New Haven, Yale University Press, 1939.
In-4, reliure pleine toile éditeur, titre doré sur le dos, xxi-202 pp.
Avec 116 illustrations en noir et blanc in et hors texte et deux plans dépliants.
Texte en anglais, à l'exception de la préface en français.
Bon état d'ensemble. Coins émoussés, coiffes frottées.
afficher le sommaire
Foreword, by Marcel Aubert & Henri Focillon - Preface - List of Illustrations - Introduction : Twelfth-Century Noyon : The Social Foundations of the Gothic Cathedral - Part I. : Architectural History of Noyon Cathedral - Chap. I. The Pre-Gothic Cathedrals. - II. The Beginning of the Gothic Cathedral. - III. Campaigns of Construction. - IV. Modifications and Additions to 1500. - V. Modifications and Additions, 1500-1800. - VI. Restorations of the Nineteenth-Century. - VII. War Damage and Restoration - Part II. The Gothic Cathedral. Description and rôle in development of style - I. General Program, Plan and Materials. - II. The Choir. - III. The Transept. - IV. The Nave. - V. The West Massif. - VI. Massing and Visual Effect. - VII. Sculpture - Conclusion - Bibliographical Note - Index.
Monographie de la Cathédrale gothique de Noyon [12e siècle] par l'historien d'art américain Charles Seymour.
SUR LE MÊME THÈME
---