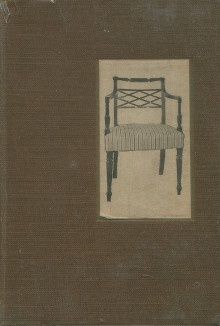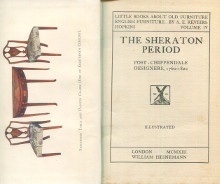 The Sheration Period - Post-Chippendale Designers, 1760-1820
Reveirs-Hopkins, A. E.
William Heinemann, English Furniture, IV, London, 1913.
British Art - Old Furniture - English Furniture - 18th-century - Decorative Arts - Furniture History - Furniture-Makers - Thomas Chippendale - Thomas Sheraton - Hardcover - Good Condition
In-12, reliure pleine toile éditeur illustrée sur le plat supérieur, 135 pp.
Avec un frontispice en couleur et 60 planches en noir et blanc en hors texte.
Assez bon état. Coiffe de tête frottée, petit accroc de qqs mm. en bordure du plat supérieur, rousseurs.
afficher le sommaire
Introduction - Chapters : I. Old furniture and modern taste. - II. Post-Chippendale designers chronological. - III. Ince and Mayhew's "Universal System" and Mangwaring's "Chair Maker's Friend". - IV. Hepplewhite and "The Guide". - V. Shearer and "The Book of Prices". - VI. Adam and the classical Influence. - VII. Sheraton - The man and his aims. - VIII. Sheraton and "the drawing book". - IX. Sheraton Period Furniture. - X. Sheraton, Empire, and Trafalgar Period seats and chairs - Index.
Figure emblématique du néo-classicisme, l'ébéniste anglais Thomas Sheraton (1751-1806) donna son nom à un style de mobilier caractéristique de la fin du XVIIIe siècle, durant la dernière phase de l'ère géorgienne.
SUR LE MÊME THÈME
---