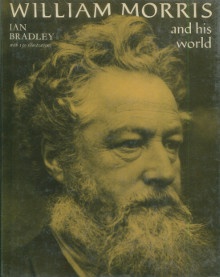 William Morris and his world
Bradley, Ian
Thames and Hudson, London, 1978.
British Art - Victoria & Albert Museum - Pre-Raphaelite Brotherhood - Medieval-Inspired Ideals of Craftsmanship against Factory Mass Production - A Romantic Socialist Visionnary - Design - Arts and Craft Movement - Wallpapers - Textile - Ian Bradley - Paperback - Good Condition
In-8, cartonnage éditeur sous jaquette illustrée en noir et blanc, 127 pp..
Avec 145 illustrations en noir et blanc.
Ex-libris de l'écrivain et journaliste italien Giancarlo Marmori -mort à Paris en 1982- collé en page de garde ; consacré à Dante Gabriel Rossetti, son roman inachevé La Bellezze e
difficile a été publié à de manière posthume. difficile a été publié à de manière posthume.
Bon état.
afficher le sommaire
William Morris and his world - Chronology - Select Bibliography - List of illustrations - Index.
"Was William Morris merely a romantic socialist visionary, "the idle singer of an empty day", as he described himself, or was he born fifty years ahead of his time, an essentially practical man whose modern ideas and insights, unrecognized in his own day, were to have a decisive influence on the visual attitudes of the twentieth century?
"Morris pioneered the concept of the "Garden City", was the first crusader against pollution of the environment, and championed medieval-inspired ideals of craftsmanship against factory mass production.
"He was responsible for removing the clutter and bric-à-brac from Victorian drawing-rooms and replacing it with simple and useful objects. The principles of design which he established are still accepted today, as the continuing popularity of his designs for wallpapers and textile shows."
SUR LE MÊME THÈME
---