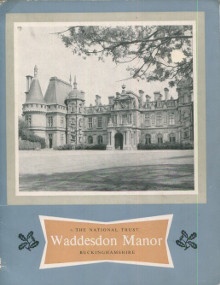 Waddesdon Manor Buckinghamshire
James, Philip
Pitkin Pictorials Limited, London, 1959.
Waddesdon Manor - Buckinghamshire - Rothschild - The French Architect Destailleur - Baron Ferdinand de Rothschild - Victorian Period - Paperback - A corner a little bit damaged
In-8, plaquette agrafée sous couverture illustrée en noir et blanc,36 pp.
Illustrations en noir et en couleur.
Assez bon état. Petit accroc en coiffe de tête, coins émoussés.
afficher le sommaire
Waddesdon Manor, a short guide by Philip James. - Foreword : Waddesdon Manor and the Rothschild Family - The National Trust : Waddesdon Manor Buckinghamshire : the description of the rooms follows the order in which they are viewed by the visitors.
Waddesdon Manor a été édifié pour le baron Ferdinand de Rothschild par l'architecte français Destailleur entre 1880 et 1889.
SUR LE MÊME THÈME
---