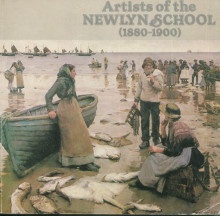 Artists of the Newlyn School (1880-1900)
Caroline Fox et Francis Greenacre
Newlyn Orion Galleries Ltd, 1979.
British Art - English Painters of the Newlyn School - Victorian Period - Art Colony - West Country - French Influence and Insularity of British Art - Plein Airists - Catalogue of Exhibition - Paperback - Used Book.
In-12, broché sous couverture illustrée en couleur, 259 pp.
Avec 108 illustrations en noir et blanc in texte.
Assez bon état. Quelques marques d'usage en couverture, pli angulaire sur le plat supérieur.
afficher le sommaire
Foreword - Introduction - A short history of Newlyn - Stanhope Forbes. - Walter Langley. - Edwin Harris. - Ralph Todd. - Leghe Suthers. - Henry Scott Tuke. - Alexander Chevallier Tayler. - Fred Hall. - Franck Bramley. - Thomas Cooper Gotch. - Elizabeth Stanhope Forbes. - William Fortescue. - Norman Garstin. - Frank Wright Bourdillon. - Henry Meynell Rheam. - Harold Harvey. - Frank Bodilly. - John da Costa. - Henry Detmold. - Frederick Mc Namara Evans. - William Blandford Fletcher. - Caroline Gotch. - Henry Martin. - Fred Millard. - Frank Richards. - William Wainwright - Index of Lenders.
Consacré à la colonie artistique de Newlyn, en Cornouailles, près de St-Yves, ce catalogue peu courant a été édité à l'occasion de l'exposition Artists of the Newlyn School (1880-1900) présentée Newlyn Art Gallery, City Art Gallery, Plymouth et City of Bristol, Museum and Art Gallery, du 5 mai au 15 septembre 1979.
SUR LE MÊME THÈME
---