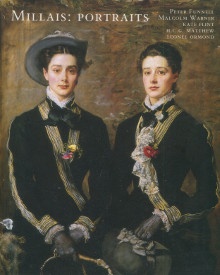 Millais : Portraits
Peter Funnell (dir.)
National Portrait Gallery Publications, London, 1999.
British Art - Pre-Raphaelite Portraits - Victorian Period - Painting - Catalogue of Exhibition - Paperback - Good Condition
In-4, broché sous couverture illustrée en couleur, 224 pp.
Nombreuses illustrations en noir et en couleur.
Bon état d'ensemble. Un petit pli de lecture au dos.
afficher le sommaire
Foreword, Charles Saumarez Smith - Acknowledgments - Introduction : Millais's reputation and the practice of portraiture, Peter Funnell - 1. Early and Pre-Raphaelite Portraits, Leonée Ormond - 2. Portraits of children : The Pathos of Innoncence, Malcom Warner - 3. Portraits of Men : Millais and Victorian public life, H.C.G. Matthew - 4. Portraits of Women : On display, Kate Flint - Bibliography - Index.
Ce catalogue a été édité à l'occasion de l'exposition Millais : Portraits présentée à la National Portrait Gallery, à Londres, du 16 février au 6 juin 1999.
This major study of John Everett Millais's Pre-Raphaelite and later portraits was the first full-length critical analysis of Millais as a portrait painter.
It contains a complete re-assessment of this aspect of Millais's art, emphasising his status during his lifetime as one of the most highly regarded portraitists of the Victorian preriod, and examing the neglect his work has suffered this century.
SUR LE MÊME THÈME
---