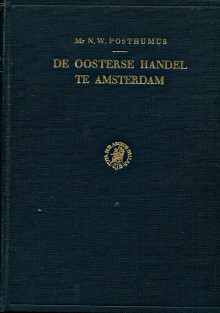 De oosterse handel te Amsterdam - het oudst bewaarde koopmansboek van een amsterdamse vennootschap betreffende de handel op de oostzee 1485-1490

Posthumus, N. W.
E. J. Brill, Leiden, 1953.
In-4, reliure pleine toile éditeur, titre doré sur le plat supérieur et le dos, 340 pp.
Avec 53 fac-similés.
Ouvrage en langue néerlandaise.
Bon état. Très légères salissures sur les plats et la tranche supérieure, intérieur frais.
afficher le sommaire
Inleiding - I. De oude koopmansboeken in het Hanze-gebied - II. Het Amsterdamse koopmansboek : A. Het handschrift. - B. De eigenaren. - C. Het milieu. - D. Het koopmansboek. - E. Het verblijf van de kooplieden te Danzig. - F. De vennootschap - III. De organisatie van de Amsterdamse handel op de Oostzee - IV. Amsterdam in de tweede helft der vijftiende eeuw - V. Het marktwezen - VI. De in- en uitvoer van Amsterdam - VII. De handel van de Amsterdamse koopman in de tweede helft der vijftiende eeuw - VIII. De scheepvaartpolitiek en de scheepvaartpositie - IX. De scheepstypen - X. De rederijen - De scheepsparten - XI. Vrachtvaart - Doorvoerverkeer - In ballast varen - XII. De scheepsvaartroutes - XIII. De sheepsdocumenten - XIV. De binnenscheepvaart - Het persoenvervoer - XV. De economische verhoudingen te Danzig - XVI. Het paalgeld en het pondgeld te Amsterdam en te Danzig - XVII. De machtsverhoudingen in de Oostzee - XVIII. De handel van Symon Reyersz. en Reyer Dircsz. te Danzig - Koopmansboek van Symon Reyersz. en de Reyer Dircsz., kooplieden te Amsterdam, van hun handel te Amsterdam 1485-1490 - Facsimile - Transcriptie - Zaakregister - Register van personen.
Nicolas Wilhelmus Posthumus
(1880-1960) fut l'un des grands historiens néerlandais de l'économie. En 1908, il avait réalisé à La Haye sa thèse sur
L'industrie textile à Leyde
.
"After a brief stint as a teacher at the Openbare Handelsschool [public business school] in Amsterdam, Posthumus landed an appointment as a professor at Rotterdam's new Handelsschool. In 1914 he founded the association of the Nederlandsch Economisch-Historisch Archief [Netherlands Economic History Archive] (NEHA), which preserved merchant records and soon began publishing the Economisch-Historisch Jaarboek as well. The NEHA was located in The Hague.
"In 1922 Posthumus transferred to the University of Amsterdam, where he joined the new business faculty. His most lasting achievement, in addition to his pioneer work in his true field (economic history of the Netherlands), is his establishment of the renowned International Institute of Social History (IISH) on 25 November 1935. Back around 1915 he had written to F. Domela Nieuwenhuis requesting his archive. He also collected trade union archives for the NEHA. In 1932 he founded the Economisch-Hischtorische Bibliotheek [Economic history library] (EHB) in Amsterdam. At this point, the library of the NEHA (which had had started a modest social-economic collection in 1923) was transferred to Amsterdam. Upon the establishment of the IISH, several collections, books and periodicals on economics were transferred to there. After the Nazis seized power in Germany in 1933, salvaging the socialist archives and libraries in Central Europe became a serious problem, which Posthumus realized in time.
"The answer to I. J. Brugmans' question as to what socialism meant to Posthumus may lie in Posthumus' frenzied efforts in this field during the 1930s. The staff assisting him included Annie Kleefstra, the widow of his study companion Adama van Scheltema, as the librarian. Nehemia De Lieme, the director of De Centrale Arbeiders Verzekerings- en Depositobank, was indispensable in funding the achievement of his plans. During this period De Lieme visited leaders of the Sozialdemokratische Partei Deutschlands (SPD) in exile in Prague, K. Kautsky in Vienna and L. Trotsky in Norway and travelled to Berlin in 1935, in his efforts to acquire valuable collections such as the Marx-Engels archive. Despite stiff competition from Moscow's Marx-Engels-Lenin Institute, the IISH obtained the SPD archives in 1938. The Institute also acquired the collections of the Austrian anarchism expert Max Nettlau (with whom Posthumus had been negotiating since 1928), the Polish Bund, the Russian social-revolutionary party and the Spanish anarcho-syndicalists.
"On 11 March 1937 the IISH opened officially on the Keizersgracht in Amsterdam. Posthumus delivered a speech about the essence of social history, 'which is very closely related to mankind's pursuit of greater freedom and opportunities for personal enrichment and thus to suppress whatever is experienced as economically or spiritually oppressive.' The establishment served in part to 'promote the imminent urge for freedom.' Posthumus' appearance at a student meeting protesting the Robbe bill to prohibit married women from working in 1938 may have reflected this sentiment as well. Although he generally steered clear of political practice, he cared deeply about subjects such as women's rights. The international archive for the women's movement, also established in 1935, was stored at the Keizersgracht premises as well." (International Institute of Social History, Amsterdam)
SUR LE MÊME THÈME
---