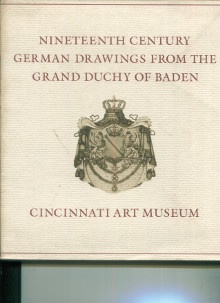 Nineteenth century german drawings from the Grand Duche of Baden lent by the Staatliche Kunsthalle Karlsruhe
Theilmann, Rudolf
Cincinnati Art Museum, 1993.
German Drawings - 19th Century - Grand Duchy of Baden - Franx Xaver Winterhalter - Moritz von Schwind - Catalogue of Exhibition - Texts in English - Paperback - Good Condition
In-4, broché sous couverture illustrée en couleur, 103 pp.
Avec 66 illustrations en hors texte.
Bon état d'ensemble.
afficher le sommaire
Introduction, by Rudolf Theilmann - Explanatory Notes - Catalogue, by R. Theilmann - Selected Exhibitions and Bibliography - Illustrations - Index of Artists.
Ce catalogue a été édité à l'occasion de l'exposition Nineteenth century german drawings from the Grand Duche of Baden
lent by the Staatliche Kunsthalle Karlsruhe
présentée au Cincinnati Art Museum en 1983
.
Ce catalogue présente notamment des oeuvres de Franz Xaver Messerschmidt et de Moritz von Schwind.
SUR LE MÊME THÈME
---