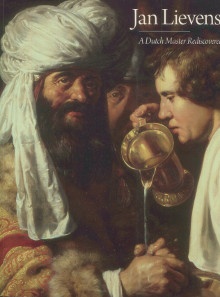 Jan Lievens - A dutch master rediscovered
Wheelock Jr, Arthur K.
National Gallery of Art, Washington / Yale University Press, New Heavan and London, 2008.
Dutch Painting - 17th century - Jan Lievens - Leiden - His relationship with Rembrandt - London - Antwerp - Amsterdam - Catalogue of Exhibition - Paperback - Fairly Good Condition
In-4, broché sous couverture rempliée et illustrée en couleur, 308 pp.
Nombreuses illustrations et planches en noir et en couleur.
Bon état d'ensemble. Léger pli de lecture sur le dos.
afficher le sommaire
Foreword - Essays : Jan Lievens : Bringing New Light to an Old Master, Arthur K. Wheelock Jr. - Patronage for Lievens' Portraits and History Pieces, 1644-1674, Jaap van der Veen - Lievens' Technique : "Wonders in smeared paint, varnishes, and oils", E. Melanie Gifford - Jan Lievens and Printmaking, Stephanie S. Dickey - The Drawings of Jan Lievens, Gregory Rubinstein - Catalogue : Paintings. - Prints. - Drawings - Appendix : "I believe I have already mentioned Lievens' character in passing..." : Personality as the key to the career and artistic vision of Jan Lievens, Lloyd De Witt. - Constantijn Huygens on Lievens and Rembrandt. - Jan Jansz Orlers on Lievens - Notes to the Catalogue - Select Bibliography - Index.
Ce catalogue a été édité à l'occasion de l'exposition Jan Lievens - A dutch master rediscovered présentée à la National Gallery of Art, Washington, du 26 octobre 2008 au 11 janvier 2009, au Milwaukee Art Museum, du 7 février au 26 avril 2009, et Rembrandthuis, Amsterdam, du 17 mai au 9 août 2009.
Jan Lievens was among the most fascinating and enigmatic dutch artists of the seventeenth century. Daringly innovative as a painter, printmaker, and drafstman, he created powerful character studies, formal portraits, religious and allegorical images, and landscapes that were highly esteemed by his contemporaries.
Lievens began his career as a child prodigy in Leiden in the 1620s. Influenced by the Utrecht Caravaggisti, particularly Gerrit van Honthorst, he soon formed a close, symbiotic relationship with his talented compatriot Rembrandt van Rijn.
But Lievens moved to London in 1632 to paint at the court of King Charles I., where he worked closely with Anthony van Dyck. He then moved to Antwerp in 1635 and to Amsterdam in 1644, each time adapting his style and subject matter to suit patrons that included the Catholic Church as well as private citizens from the highest social, political, cultural, and business circles. In his later years Lievens also received public commissions from the municipalities of Amsterdam and Leiden, the States General in The Hague, and the House of Orange.
SUR LE MÊME THÈME
---