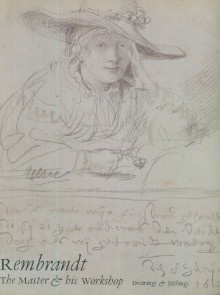 Rembrandt - The Master & his Workshop/drawings & etchings
Holm Bevers, Peter Schatborn et al.
Yale University Press, New Haven and London, 1991.
Dutch Painting - 17th century - Rembrandt - Amsterdam - His Workshop - Drawings & Etchings - Catalogue of Exhibition - Paperback - Fairly Good Condition
In-4, broché sous couverture illustrée en noir, 288 pp.
Nombreuses illustrations en noir et en couleur.
Catalogue en anglais.
Bon état d'occasion. Coins émoussés et léger pli de lecture sur le dos.
afficher le sommaire
Introduction - Aspects of Rembrandt's Draughtsmanship, Peter Schatborn - Drawings Catalogue : Rembrandt. - Rembrandt's pupils - Rembrandt as an Etcher, Holm Bevers - Etchings Catalogue : Rembrandt - Bibliography.
Ce catalogue a été édité à l'occasion de l'exposition Rembrandt - The Master & his Workshop/drawings & etchings présentée au Kupferstichkabinett SMPK, Altes Museum, Berlin, au Rijksmuseum d'Amsterdam, puis à la National Gallery de Londres, du 12 septembre 1991 au 24 mai 1992.
The Rembrandt Research Project, comprising the Rembrandt scholars, based in Amsterdam, has undertaken the formidable task of establishing a body of works which can be securely attributed to Rembrandt. This has resulted in the deattribution of many works, once unquestioningly accepted as Rembrandts. Others are applying the same methods to the attribution of drawings.
This catalogue surveys Rembrandt's entire graphic oeuvre, relating his works to those by his students who learned by copying his drawings and etchings.
SUR LE MÊME THÈME
---