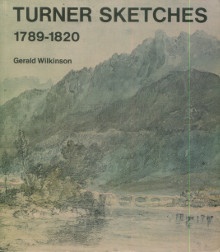 Turner Sketches 1789-1820
Wilkinson, Gerald
Barrie and Jenkins, London, 1977.
British Art - English Painting - Romantic Art in Britain - J. M. William Turner - 19th-century - Landscape - Sketches - The Engraved works - Turner and the Sublime - Paperback - Good Condition
In-8, broché sous couverture illustrée en noir, 160 pp.
Nombreuses illustrations en noir et en couleur.
Bon état d'ensemble. Coins émoussés.
afficher le sommaire
Sketches, drawings, and "blots" - Covent Garden - The first sketchbooks - South Wales - Studies near Brighton - The North-East and the Lakes, 1797 - The "Wilson" sketchbook - Welsh sketchbooks 1798-99 - A pause - Fonthill, love and madness - The North-east coast and Scotland - 1802 - France and Switzerland - 1803-1811 - The last of Hammersmith - Drawings for Liber Studiorum - 1811 and the Southern Coast - 1817 Belgium and Holland - 1819-20 : Venice and Rome - Index of names.
Turner's progress is traced from his apprenticeship in the Picturesque to his early maturity as a one-man avant garde in the Royal Academy. He travels in England, Wales and Scotland, then explores the Alps.
He lingers on the Thames and spends his summers on the Devonshire coast or in the Yorkshire Dales : in 1817, he takes his sketchbooks to the Rhineland and then in 1819 to Venice and Rome.
These sketches add an extra dimension to the understanding of Turner's genuis and creative processes.
SUR LE MÊME THÈME
---