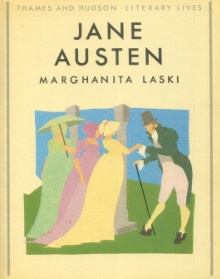 Jane Austen
Laski, Marghanita
Thames and Hudson, Literary lives, New York, 1986.
British Literature - Late eighteenth century - Southern England - Jane Austen - Literary Study by the Novelist and Critic Marghanita Laski - Paperback - Good Condition
In-8, broché sous couverture illustrée en couleur, 143 pp.
Avec 137 illustrations en noir et blanc in texte.
Bon état d'ensemble.
afficher le sommaire
Jane Austen - Chronology - Notes on the Pictures - Select Bibliography - Index.
Jane Austen (1775-1817) sprang from the upper middle class society of late eighteenth century southern England. Self-contained, orthodox in morals and religion, generally Tory in politics, depending for its strength on the professions and ont the ownership of land -this was the milieu in which she spent her entire life and which she describes so memorably in her novels.
Indeed, her environment provided her with material ideally suited to her talents : accurate observation of character, wit, dramatic intuition, an ear for realistic dialogue and a highly disciplined formal sense.
These gifts, already evident in the early and satirical novels, Northanger Abbey and Sense and Sensibility, were to receive their perfect expression in the great books of her maturity : Pride and Prejudice, Mansfield Park, Emma and Persuasion.
SUR LE MÊME THÈME
---