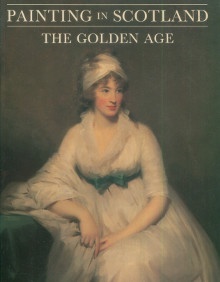 Painting in Scotland - The Golden Age
Macmillan, Duncan
Phaidon Press Limited, Oxford, 1986.
British Art - Scottish Painters and Artists : Allan Ramsay - Sir Henry Raeburn - Sir David Wilkie - Robert Burns - Sir Walter Scott - The Greatest Period of Scotland's Cultural History - The Scottish Enlightenment - Eighteenth Century and Mid-Nineteenth - Catalogue of Exhibition - Paperback - Good Condition
In-4, broché sous couverture illustrée en couleur, 206 pp.
Nombreuses illustrations en noir et blanc et planches couleur.
Ouvrage en langue anglaise.
Bon état d'ensemble. Une coiffe et deux coins émoussés.
afficher le sommaire
Preface - I. Artists and the Union - II. Empirical Portraiture. - III. The Epic Style - IV. An Ossian's Fancy and a Fingal's Fire - V. A vision of Pastoral Simplicity - VI. The Portraiture of Common Sense - VII. The Landscape Painters - VIII. Scenes of Scottish Life and Character - IX. Artists and Evangelicals - Notes - Catalogue of Exhibited Works - Bibliography - List of Lenders - Index.
Peu courant en France, ce catalogue a été édité à l'occasion de l'exposition Painting in Scotland - The Golden Age présentée au Talbot Rice Art Centre, University of Edinburgh, du 8 au 31 août 1986, puis à la Tate Gallery, London, du 15 octobre 1986 au 4 janvier 1987.
The Three greatest painters in Scottish history are Allan Ramsay, Sir Henry Raeburn and Sir David Wilkie. Together with their contemporaries in other fields, among them David Hume, Robert Burns and Sir Walter Scott, they created the greatest period of Scotland's cultural history, the scottish Enlightenment, from the eighteenth century until the mid-nineteenth.
It was an age of marvellous portraiture and naturalistic detail inspired by scientific enquiry, but artists and writers were equally intrigued by the relationship of landscape, poetry and history, and this can seen as much in the paintings of Alexander Runciman and Alexander Nasmyth as in the novels of Walter Scott.
SUR LE MÊME THÈME
---