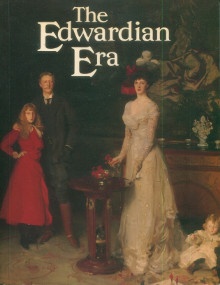 The Edwardian Era
Jane Beckett et Deborah Cherry (édit.)
Phaidon Press and Barbican Art Gallery, Oxford & London, 1987.
The Edwardian Era - The Reign of King Edward VII - Queen Alexandra - Art and Social History - Women's Suffrage Movements - Paperback - Fairly Good Condition
In-4, broché sous couverture en couleur, 176 pp.
Nombreuses illustrations en noir et en couleur.
Assez bon état. Coins et coiffes frottés.
afficher le sommaire
Chronology - Introduction, Jane Beckett and Deborah Cherry - 1. Health and Hygiene : The Edwardain State and Medico-Moral Politics, Frank Mort - 2. Edwardian Childhoods : Childhood and Children : Image and Diversity, Anna Davin - 3. Working Women : Overdressed/Underpaid : Women Workers and the Production of Feminity, J. Beckett and D. Cherry - 4. Sex and Morality : Sinning on a Tiger Skin or keeping the Beast at Bay, Lucy Bland - 5. Suffrage Campaigns : The Political Imagery of the British Women's Suffrage Movement, Lisa Tickner - 6. Architecture and Design : Heart of Empire/Glorious Garden : Design, Class and Gender in Edwardian Britain, Lynne Walker - 7. The Franco-British Exhibition : Packaging Empire in Edwardian England, Annie E. Coombes - Picture Essays : The State, Bill Schwartz - Black Politicians, Ziggi Alexander and Audrey Dewjee - Ireland, w.A. Maguire - London, J. Beckett and D. Cherry - The Music-Hall - Black Entertainers, Ziggi Alexander - Samuel Coleridge-Taylor, Audrey Dewjee and Z. Alexander - Norwich; J. Beckett and D. Cherry - Glasgow, J. Beckett and D. Cherry - Shopping - The Edwardian Office, Rosemary Ind - Letchwork : Town Planning in Practice, R. Ind - The Rural World and its Representation, Alun Howkins - The Seaside - Trade-Union Banners, John Gorman - Notes - Index.
Published to accompany a major exhibition at the Barbican Art Gallery, London, in 1987 and early 1988, this illustrated social history examines in a lively and accessible style the complexities, contradictions and diversities of these years of change and struggle.
Remembered for its opulence, splendour and conspicuous display of wealth, the reign of King Edward VII and Queen Alexandra was alos characterized by its strong labour movements, working-class organization, succesful black participation in national and local politics and campaigns for the vote by the women's suffrage movements.
SUR LE MÊME THÈME
---