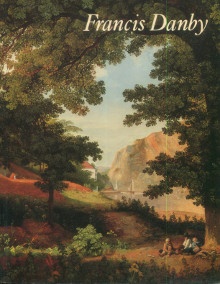 Francis Danby 1793-1861
Greenacre, Francis
Tate Gallery Publications, Millbank, London, 1988.
British Painting - Romantism - Ireland - Bristol - Travel in Norway - Catalogue of Exhibition - Paperback - Good Condition
In-4, broché sous couverture illustrée en couleur, 175 pp.
Illustrations en noir et blanc in texte et 32 planches couleur.
Bon état.
afficher le sommaire
Foreword - Introduction - Notes - Colour Plates - Biographical Details - Catalogue - Selected Bibliography - Appendix I. - Appendix II. - Lenders.
Ce catalogue a été édité à l'occasion de l'exposition Francis Danby 1793-1801 présentée City of Bristol Museum and Art Gallery et à la Tate Gallery de Londres, du 5 novembre 1988 au 9 avril 1989.
Francis Danby was an irish painter of the romantic period. His imaginative and dramatic landscape were comparable to those of John Martin. Danby initially developed his imaginative style while he was the central figure in a group of artists who came to be known as the Bristol School. His period of greatest success was in London in the 1820s.
Forty years ago the late Geoffrey Grigson wrote that "the canon of English painting needs some stiff and sensitive revision ; and Francis Danby is one man with whom such a revision might begin".
The first exhibition of Danby's work in 1961 commemorated the centenary of his death. In 1969, Eric Adams, the principal architect of this process, completed his doctoral thesis on Danby, and his book Francis Danby : Varieties of Poetic Landscape, was published in 1973.
In the same year Francis Greenacre's large exhibition The Bristol School of Artists : Francis Danby and Painting in Bristol 1810-1840, took full advantage of Dr Adams' research and, for the first time, effectively demonstrated the achievement and coherence of the Bristol School.
SUR LE MÊME THÈME
---