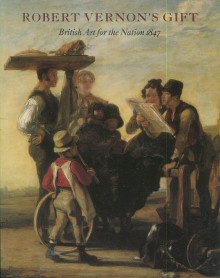 Robert Vernon's Gift - British Art for the Nation 1847
Hamlyn, Robin
Tate Gallery Publications, Millbank, London, 1993.
Robert Vernon's Gift - British Art for the Nation 1847 - National Gallery of British Art - Catalogue of Exhibition - Good Condition
In-4, broché sous couverture illustrée en couleur, 72 pp.
Nombreuses illustrations en noir et en couleur.
Bon état d'ensemble.
afficher le sommaire
Foreword - Robert Vernon 1774-1849 : Patron, by Robin Hamlyn - No Short Mechanic Road to Fame, by Leslie Carlyle and Anna Southall - Colour Plates - Catalogue - A Checklist of the Vernon Gift - Select Bibliography.
Ce catalogue a été édité à l'occasion de l'exposition Robert Vernon's Gift - British Art for the Nation 1847 présentée à la Tate Gallery, Londres, du 16 mars au 31 octobre 1993.
Il constitue un document important pour l'histoire du goût en Grande-Bretagne.
In 1847, Robert Vernon, a prosperous London horse dealer, gave more than 160 paintings and sculptures by British artists to the National Gallery.
Vernon started collecting modern art in the mid-1820s and his gift included paintings by famous names such as J.M.W. Turner, John Constable and Sir Edwyn Landseer as well as works by artists who where very highly regarded in their day but who are now less familiar -for example J.R. Herbert, Charles Robert Leslie and Richard Redgrave.
As a patron of these men and many others of their generation, Vernon was in many ways typical of his time. However, he also collected british old masters, with the greater aim of creating a gallery of art which, uniquely, attempted to show the achievements of the British School from the time of its renaissance in the eighteenth century.
Works by Thomas Gainsborough, Sir Joshua Reynolds and Richard Wilson were all bought by Vernon and hung alongside the modern masters in his house in Pall Mall.
SUR LE MÊME THÈME
---