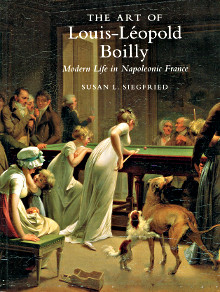 The Art of Louis-Léopold Boilly Modern Life in Napoleonic France

Siegfried, Susan L.
Yale University Press, New Haven and London, 1995.
In-4, broché sous couverture illustrée en couleur, 222 pp.
Avec 170 illustrations en noir et en couleur.
Bon état d'ensemble. Coins et coiffes inégalement frottés.
afficher le sommaire
Acknowledgments - Introduction - 1 Persona and Status - 2. An Artist Negotiates the French Revolution - 3. Immorality and the Directoire - 4. Portraiture and Identity - 5. Spectacle and Identity - 6. Viewing and Spectatorship - Notes - Index.
Monographie de référence sur le peintre de genre Louis-Léopold Boilly (La Bassée, 1761 - Paris, 1845), cet essai majeur d'histoire de l'art a renouvelé en profondeur la lecture de cet oeuvre, notamment en faisant de la place du spectateur la question centrale de l'art de Boilly. Lors de la sortie de cet ouvrage, Susan L. Siegried était chercheur au Getty Art History Information Program.
"Boilly has been recognised as the most significant painter of everyday life in Napoleonic France. His portraits and genre scenes provide delightful illustrations of the period. In this book, Susan Siegfried argues that Boilly's paintings should be read not just for their documentary detail but also for their wider cultural significance -for the light they shed on social and sexual tensions of the era.
"According to Siegfried, Boilly viewed the Revolution not as political event but as a force that redefined social attitudes and behaviour. His paintings of streets scenes contained a new middle class. His paintings also reveal his distinctive interest in spectatorship and the act of viewing, and Siegfried contends that his work represents a peculiarly modern politics of spectatorship and involves us in a self-conscious dialogue between picturing and viewing. In fact, says Siegfried, Boilly's representation of women and boys as highly eroticised objects raises important issues of gendered viewing. Boilly emerges in this innovative study as an intriguing figure who fashioned new pictorial formulas that appealed to connoisseurs of his era and of ours and whose works illuminate importants aspects of life in France after the Revolution."


SUR LE MÊME THÈME
---